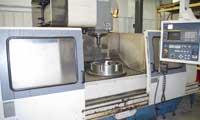 Full Range of Solutions
New Production Processes
At Time Machine, we are experienced at meeting or exceeding customer expectations by qualifying new production processes.   The Time Machine Team has a history of successful production start-ups that include in-depth Part Production Approval Process (PPAP) packages.   We are well-versed at developing and implementing Process Flow Diagrams, Control Plans, Failure Mode and Effects Analysis (FMEA), and Gage Repeatability and Reproducibility (R&R) Studies.
Strategic Reinvestment
As a successful company with longevity, Time Machine steadily reinvests in CNC Machining, Tooling, and Inspection Equipment, in order to build quality into every component that we manufacture from start to finish.   Our newest CNC lathes have live tooling on the turrets and full 3-axis capabilities, while our horizontal machining centers mill parts with 4-axis capabilities.   A comprehensive set of new and improved Post Processors for our Mastercam NC Programming System help us generate better CNC programs.   A state-of-the-art DNC Network System delivers CNC programs directly to our machining centers.   By leveraging modern machining technologies, Time Machine delivers to its customers, high quality products, on time, at a competitive price.
Multiple, perpetual license seats of Autodesk Design Suite Software, including Autodesk Inventor, facilitate the import and integration of customer supplied STEP and Inventor Solid Modeling files.   Our new Browne and Sharpe Coordinate Measurement Machine (CMM) has the ability to import solid models for part inspection comparison purposes.   Many other behind-the-scenes improvements have been made to ensure that we provide you with an optimal level of service: enhanced lighting, an upgraded, plant-wide, electrical power delivery system, a new IT server, and new telecommunications system, to name a few.   Time Machine continually improves its infrastructure, hardware, software, and support equipment, to better serve our customers.
Relationships Earned and Built to Last
Time Machine is continually focused on building and maintaining strong, mutually beneficial customer relationships.   Effective communication, along with a proven track record of performance, enable us to continue earning our customer's trust.   Our goal is to be a long standing partner—with our customers—not just a one-time vendor.   We have a long list of loyal, repeat, customers that rely on Time Machine for their success on a continued basis.   The Time Machine Team is very proud of the awards and accolades that we have received many times from our customers.