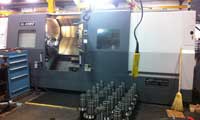 We Solve Machining Challenges
Time Machine has a successful history of machining simple, high volume parts.   We leverage our size and flexibility as required, creating dedicated, one-piece flow cells to facilitate high volume production.
At the same time, we are adept at developing machining solutions for large and/or complex, one-of-a-kind components.
No Job Too Small or Too Difficult
We work closely with our customers to understand their needs, and do everything in our power to generate the highest quality results.   Do not hesitate to ask us for help in solving your most difficult machining challenges.
We have extensive experience machining a wide variance of materials up to 65 Rc including:
Alloy Steel
Aluminum
Brass
Bronze
Copper
Ductile Iron
Hastelloy
Inconel
Manganese Bronze
Nylon
Stainless Steel
Tool Steel