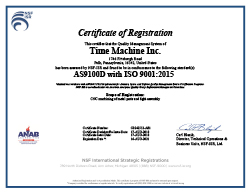 Our quality objective is to provide our customers ultimate value in all their dealings with us.
At Time Machine Inc. (TMI), the Quality process starts when we receive your Request for Quote.
Up-front, estimators evaluate all requirements in order to fully understand your expectations. An accurate and timely quotation is then generated. When your order is received, it is processed through a Contract Review Process, where multi-disciplinary team members review the completed requirements and convert them into precise router instructions. The order is released to the floor, and each step is verified by the Machine Operator and Quality Control Technician. In-process checks continue monitoring the process. Final Quality Checks verify that all customer requirements have been met.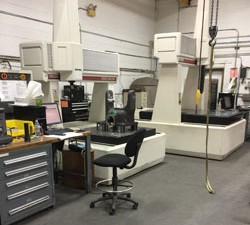 Time Machine's inspection department occupies a 1,200 square ft. environmentally controlled Inspection Lab. The Lab is manned on all three shifts by technicians who perform First Article, In-Process, and Final Inspection Audits on all components produced at TMI. All physical Inspections are performed using tools conforming to the National Institute of Standards and Technology (NIST). The equipment utilized in the metrology lab include a variety standard precision hand tools, including OD, ID & Depth Micrometers, and Height Gauges.
Inspections are also performed on one of three Sheffield Cordax Coordinate Measuring Machines (CMM's). TMI's largest CMM is a Cordax RS-150. It has a measurement envelope of 50-in (Wide) by 84-in (Long) by 32-in (High). Time Machine creates custom CMM programs on-site, for any component produced within the machine shop. Hardness inspections are performed using a RAMS-Rockford Rockwell Hardness Tester or a King Brinell Hardness Tester. Critical component surface finishes may be monitored using either our Starrett Model 3800 Surface Roughness Tester, or our Bendix Profilometer.