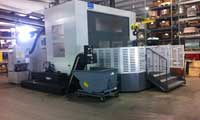 Large Capacity Capabilities
Over the past several years, Time Machine has installed larger CNC machining centers extending the size capabilities that we offer our customers—parts weighing in excess of 5 tons.
Our vertical turning centers can turn large parts up to 78 inches in diameter and 49 inches in height. Time Machine's largest horizontal machining center can swing a part up to 94.5 inches in diameter and 71 inches tall.
The combination of large part turning and milling all on one machine allows us to be both efficient and effective. The result is competitive pricing and unsurpassed quality and delivery. We strive to be a one-stop-shop for our customers.