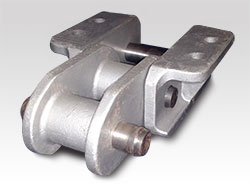 Trenching Chain
Time Machine produces 4-1/2″ pitch trenching chains that will fit on Vermeer, Trencor, or Tesmec trenching machines. Our chains are produced using Alloy steel with heat-treated components to reduce journal wear and helps to maximize the overall life of the chain.
Time Machine trenching chains have the following features that are not found in other 4-1/2 inch pitch trenching chains:
We have extensive experience machining a wide variance of materials including:
Every connecting link assembly is like a master link; there are no unique master links. Rather than riveted pins, we feature machined journal holes and ground journal pins that are held to close tolerances to maintain reliable press fits. Stainless steel retaining rings are installed on the ends of the pins to help keep the connecting links together. These connecting links can be disassembled and assembled with hand tools. Retaining rings can be easily removed and installed.
The roller link assemblies are the same height as the connecting links. Top plate/bit holder assemblies do not need special wear strips to be supported by the roller links. This reduces the costs of the top plate assemblies.
The bushing and roller in the roller links have been replaced by a one- piece step bushing. This design improves the overall performance of the chain.
The top surfaces of the outer connecting link side plates, or "K" brackets, are machined to assure proper fit-up with the top plate/bit holder assemblies. In addition, the distance between the top plate attachment holes in the K brackets is maintained to a close tolerance of + 0.025 inches, to assure proper fit-up with the top plate assembly.
The bottom surfaces of the roller link and connecting link side plates are machined and are basically in the same plane. This minimizes the initial wear on these surfaces as they contact the wear strips in the boom assemblies.
Journal pins and holes are machined to close tolerances and are assembled with a break-in lubricant. This minimizes initial journal wear and significantly extends journal life throughout the life of the chain.
Chain components are made of high strength, alloy steels that are heat treated to maximize wear and strength. All side plates are 5/8 of an inch thick. Journal pins are 1-5/16 inches in diameter. 
All these features provide a trenching chain that is easier and safer to maintain, while offering longer life, and greater overall performance. Contact us with any questions or for further information.